You may have noticed something a little (okay, a lot) different on our site this morning. We've rebranded! Jül Creative is now Trending Up Sales and Marketing. If you have a few minutes, I'll tell you the story (and if you don't, here's a video to get you started):
We encourage our clients to carry out a company assessment every six months, just like we do for them quarterly when they trust us with their marketing execution. We do the same thing on our team. Every six months, we assess where we as a team and a company are in a few areas:
Goals: Are we meeting them? Why, or why not?
Clients: Are they happy? Why, or why not? What can we do to delight them even more?
Marketing and Sales ROI: What are we gaining from our investments in marketing and sales? Is it paying off?
Time ROI: Are we spending our time on the activities that help us and our clients the most?
Alignment: Are our sales and marketing teams aligned? How is our SLA (Service Level Agreement) working; does it need to be revamped?
Branding/Messaging: Does our messaging, both online and in-person, match who we are as a team and a company, as well as where we're going?
During our last all-team meeting, we made many adjustments and tweaked our performance in some of these areas. But our biggest takeaway was in the last area: branding and messaging. Our name, Jül Creative, no longer reflected who we are as a company, or where we are going, or what our focus is.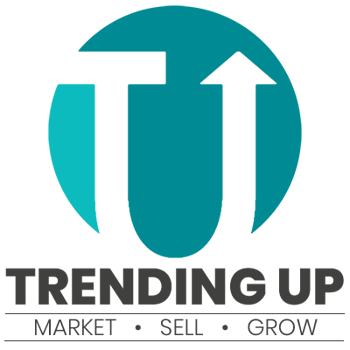 It's not that our focus changed; it's that we as a company evolved and honed our focus in on the things that benefit our clients most (which just happen to be the things that we excel at). We focus on return on investment. We focus on educating. We focus on strategy.
Simply put, we focus on trending up.
So, we made that our new name. Our new mantra: We focus on growing businesses. Period. Seriously, that's it. When it comes to our clients, the advice we give is always with that goal in mind: will this action help you meet your growth goals?
We realize this intense focus, this single-mindedness isn't easy. It isn't for the faint of heart. It is. So. Easy. to get distracted! But that's also pretty much the only thing we do: we focus on a target audience, build a kick-ass marketing and sales strategy around how to attract, convert, qualify, and close that audience into growing sales, and in the process, grow companies.
Want to learn more? Awesome; we'd love to tell you all about it. Contact us today, or sign up for our blog where we always talk about how to market, sell, and grow your company.
Keep trending up!