Alright, first of all, get on board with "expertise marketing". Don't feel bad if you don't know what that is – cause we kinda made it up. Basically, it's marketing that utilizes your industry expertise on your specific product or service. You use that sought after knowledge and organized it into content that is on your site to attract your ideal buyer by answering their common questions, or triggers.
The best thing about this (besides the fact that you are attracting exactly the kind of person that you want to your business) is that all the while, you are fueling and empowering your website for now and years to come. Fueled by relevant content for your ideal customer, your website should be your #1, round-the-clock, best salesperson!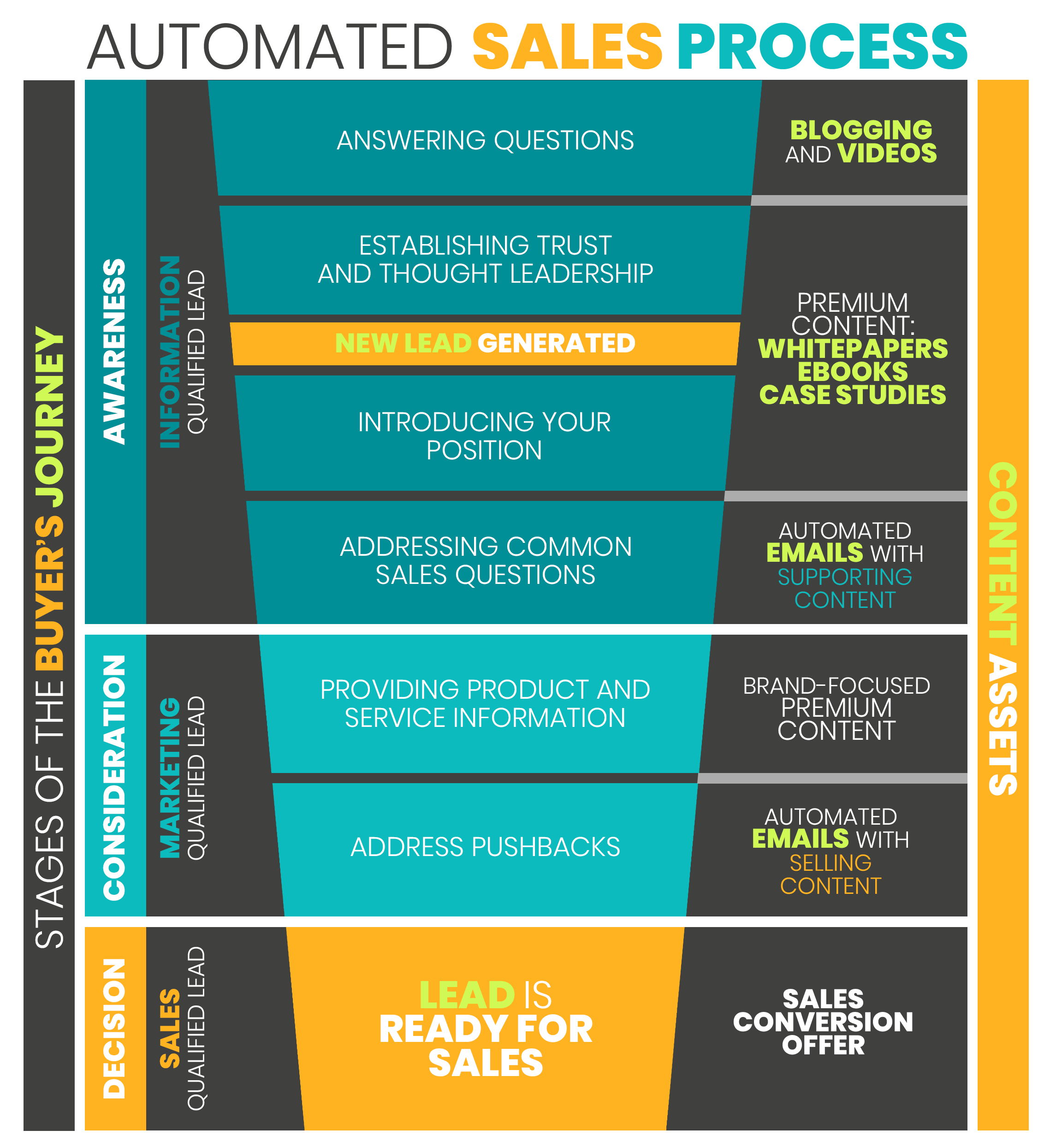 Effective content marketing begins with an understanding of your target persona's triggers
If you have a solid understanding of your buyer persona, or ideal customer, then you can make sure that you are focusing your content directly to them and their needs.

A "marketing trigger" is an event, or set of events, that cause a buyer persona to become aware of their problem or a goal they need to achieve. Effective marketing begins with an understanding of these triggers and the various questions a buyer persona will need to answer to accomplish their goals.
Here is an example of a buyer persona's triggers and goals: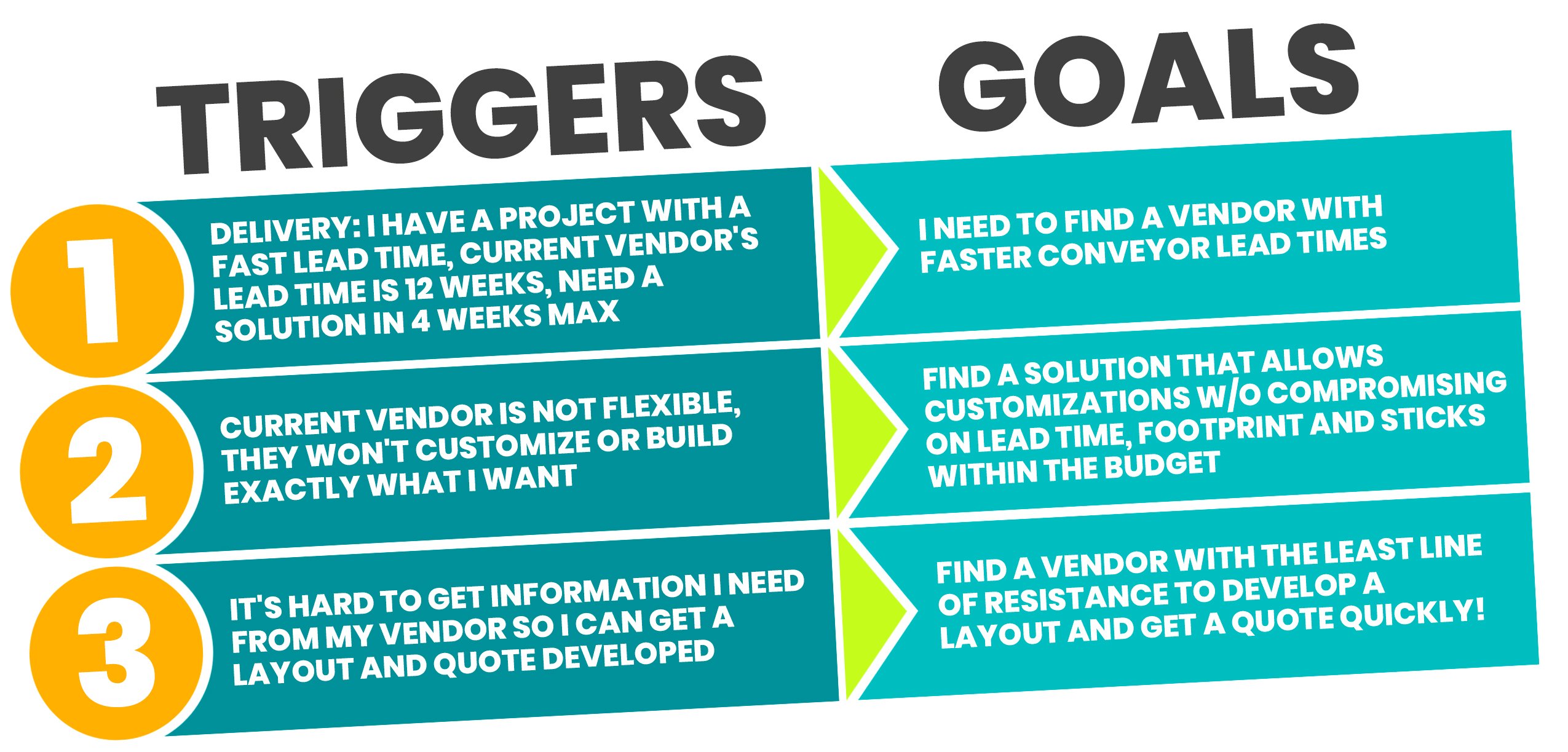 Once your triggers and goals are confirmed, we recommend to our clients that they turn each of these primary pain points into mini-strategies that we call "campaigns". For our clients, each campaign takes 1 month to execute. So, from a management perspective, they are able to approve a clear 3-month road map that all key members of their team have bought into. Everyone is aligned and everyone knows what is going to be executed in a 3-month time period.
Take some time and see if you can narrow down your target persona's potential triggers and goals. It is a crucial step in building your marketing strategy. If this is something that you want help with, feel free to reach out.
OK,
You know who you want

and

you know what they want

Now, content based on the stages of the buyer's journey and off of your target persona's triggers can guide these website visitors that you have attracted through the funnel until they are ready to talk to sales.

To make sure that you are bridging the gap between your marketing and sales teams I recommend reading this blog:

Let's consider a buyer's journey related to the manufacturing industry and potential content offers that are relevant to each stage:
Discovery and Awareness:


Using informative, benefits-focused giveaway, such as an ebook, the prospect learns more about the impact of your service without being compelled to make decisions. By downloading this ebook, the prospect becomes a lead that is "information-qualified." If the lead has given information that makes them qualified - matching interest levels, budget, location, and other demographics needed - they may move on to the marketing qualified lead status next.
Consideration:
A differentiation-focused offer should be given at the consideration stage. For example, "A 7-Step Checklist for Choosing a Six Sigma Vendor." This aids the selection process and allows you to position your expertise, but should be truthful and still purely informative; no selling!
Decision:


At this stage, content should require the prospect to take action like, a call-to-action: "Request a Quote" or "Free Consultation". A decision-stage offer should have very specific content geared toward selecting a vendor that looks like you - and differentiate you even more from competitors.
At this point, because of your utilization of your industry expertise to answer the questions that your buyer persona has, your website has walked this person down a valuable, educational path (all while building trust in your company) and teed them up perfectly for your sales team.
Now close that sale!