The modern buyer has changed the sales process, and now the sales process is being redefined. Today's sellers are adapting to the modern buyer, and as a result, the mantra of "always be closing" no longer works. Today's buyers must always be helping.
Keep reading to learn how modern sellers are adapting to today's buyers, and how you can apply this to your own sales process.
The Internet has Changed Buyers
Before the internet, buyers were relatively uninformed. The buyer's journey was pretty much a straight shot that was triggered when a buyer recognized a need. Now, the trigger can be random and the buyer can conduct his or her own personal research.

Think about this situation: when a family wanted to purchase a home 20 years ago, they wouldn't go online to search. They'd first look for a realtor and maybe through newspaper listings; they would be dependent on the realtor or the advertiser to find listings that matched a set of requirements.
Today, we start the search for a home online – well before we reach out to a realtor for a showing. It's a much more fluid process between recognizing a need and making a purchase, particularly for big purchases.
Due to the Internet, the modern buyer is no longer dependent on salespeople to access the information necessary to make a purchase decision.
If the modern buyer has a need for a product or service, they can get all of the answer to their questions online. They can research competitor information, reviews and easily find and interact with others who have already made the purchase. They could reach the decision stage of their buyer's journey, all without every contacting or speak to a salesperson.
The video below summerizes how modern sellers can adapt their sales processes to match.
One Size Doesn't Fit All
One size does not fit all for the modern buyer. They expect you to know who they are, and provide value to their buyer's journey.
Marketing has accounted for the change in the modern buyer and has updated its efforts accordingly.
Marketers have made quality content their focus and are always working to create content that pulls people towards their product and company using inbound marketing strategies.
This makes marketing relevant and helpful to the modern buyer. And it gets results:
68% of online buyers will spend considerable time reading content published by a brand they are interested in. The CMA
B2B customers conduct 12 searches on average before checking a specific brand's website. Kapost
Online buyers go through about 57% of the buying cycle on their own without talking to sales. Executive Board
The Inbound Marketing Methodology
The inbound marketing methodology focuses on marketing that:
Attracts strangers and makes them visitors
Converts Visitors into Leads
Closes Leads into Customers
And Delights Customers so they become Promoters
This is a fundamental shift from outbound marketing efforts (such as radio, TV, billboards, and cold-calling), but it has proven to be an effective way to turn strangers into customers and promoters of your business. Best of all, it's 100% catered to the modern buyer.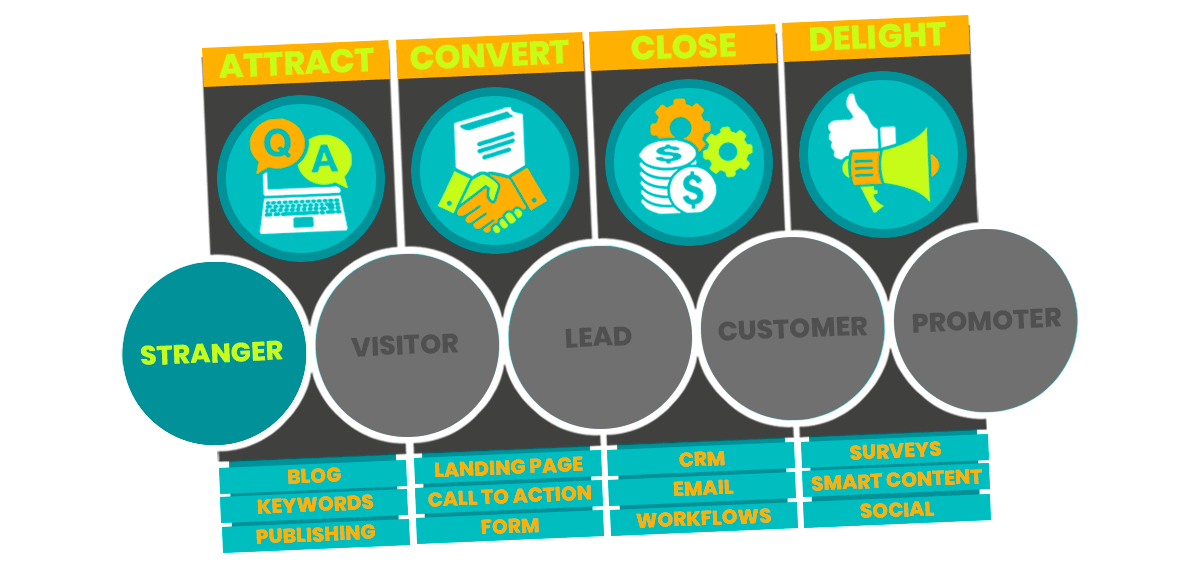 More Targeted = More Successful
Marketers have made improvements to the marketing funnel based on the modern buyer.
We don't want just any traffic to our site, we want the right traffic. By implementing the inbound marketing methodology, marketers are able to attract the right kind of prospects/visitors to our sites through blogging, SEO, optimizing website pages, and social publishing.
Once we have attracted website visitors, the next phase of the funnel is to convert those visitors into leads by gathering their contact information. By setting up forms, calls to action, landing pages and a centralized database we have a way to convert visitors into leads that does not disrupt the modern buyer's journey and allows us to capture their information and learn more about who they are.
Now it's time for sales to step up. Sales needs to question and reassess their current practices and evolve to meet and surpass the modern's buyers expectations.
Evaluating Your Sales Process
So, let's talk about your sales team's current efforts for a minute.
Are they cold calling and leaving cold voicemails?
Prospecting has changed… fewer people have phones on their desks and every phone now has caller ID.
Are they relying on mass emails?
I know personally, my inbox is filled with mass emails I delete without opening.
Is your sales team giving the same generic presentations over and over?
These are all legacy sales processes.
Legacy sales is centered around the way salespeople sell rather than how people buy.
Sales people won't disappear, but their role is changing, and many are struggling to adapt. Instead of forcing a communication channel your leads aren't interested in, one they perceive to be pushy and uninformative we as sales people must be nimble enough to be where they are, give them information the way they want it. How well do you know your buyers and where they are?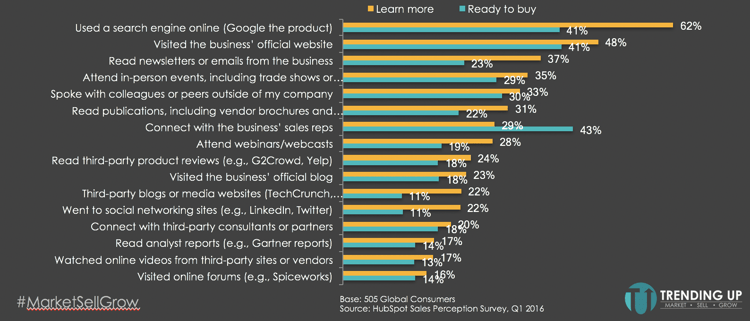 Salesforce evangelist Tiffani Bova hit the nail on the head when she said, "Today's sales organizations must shift from trying to control their internally driven sales cycle and truly embrace the new customer-driven buying cycle – otherwise, prospects will eliminate you from their consideration list and buy from your competition."
Revamping Sales for Modern Buyers
It's time to evolve your sales efforts to meet and surpass the modern buyer's expectations. There is a shift in the way buyers buy that we need to account for; we must evolve our efforts accordingly, or our businesses will suffer.
Marketers have evolved to better connect to the modern buyer: the inbound marketing methodology, 10 times more effective for lead conversion compared to outbound methods.
The average sales development rep makes 52 calls daily.
It takes 18 dials to connect with a single buyer.
Call-back rates are <1%
Leads responded to within 5 minutes are 100x more likely to be qualified.
When I hear these statistics, it makes me think that there has to be a better way.
So, what if there was a way to take the lessons learned from inbound marketing and apply them to the sales process? What if there was a new way of prospecting? What if you could proactively combat the issues and known roadblocks your sales team faces when trying to connect with the modern buyer?
The answer lies in the new sales playbook: the Empowered Inbound Sales Methodology, which applies inbound principles to the sales process.
What is Inbound Sales?
The Inbound Sales Methodology accounts for all of the changing factors of the modern buyer and is all about transforming the way we sell to align with today's empowered buyer.

Sales, not just marketing, needs to figure out who the buyer is, what they are searching for and how they can add value to their buyer's journey.
This is the foundation of the inbound sales methodology. It's all about using data and insight to add value to the prospect's buyer's journey.
But that sounds like a lot of work, and sales needs to hit their quota. They don't have time for this, right?
A Necessary Change
The current industry trends and analysis tell us that change is necessary.
Forbes Insights and Brainshark found that C-Level executives in particular, know that sales productivity is paramount to enabling a company to grow – 71% rank it as of critical importance.
Sales teams can't afford not to adopt the inbound sales methodology.
The goal of the inbound sales methodology is for the salesperson to become the buyer's trusted advisor. They need to add value, become a leader in their space and anticipate the buyer's next move so that the buyer trusts the salesperson, just like Luke trusted Yoda.
The inbound sales methodology is broken down into four stages: Discover, Diagnose, Demonstrate, Close. Here's how sales can leverage insights in order to connect with the modern buyer.
Phase 1: Discovery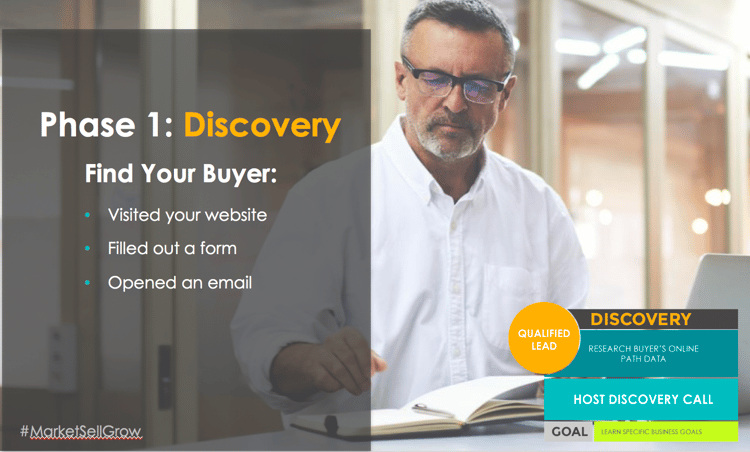 The easiest way to identify who you ideal buyers are is to set up workflows that will alert sales when a stranger has visited your website, filled out a form, or opened an email.
This doesn't completely replace your current sales strategy. For example, I'm not suggesting that you shouldn't research and create a target accounts list. You should be pro-active. But, an inbound sales strategy, content should be used as a conversation point and should be leveraged to increase your connect rate with these target accounts.
You have identified leads, so now you know your potential buyers. Find out what blogs they are reading, what LinkedIn groups they belong to, what thought leaders they are following on Twitter. Retweet, guest blog…anything to position yourself as a thought leader in the space.
And when connecting with the buyer, always lead with a message personalized to the buyer. You can refer to the buyer's industry, role, interests, common connections, etc. Offer advice around the buyer's interests and specific goals.
The goal here is to build trust and authority. You can really start to qualify leads in this stage of the sales methodology.
Do your research on social media:
What is the buyer's role in the company?
How long have they been at the company?
Do you know anyone at their company?
What are their interests?
The point is to research them as a person, rather than just a person at the company so you can connect with them on a personal level.
Phase 2: Diagnosis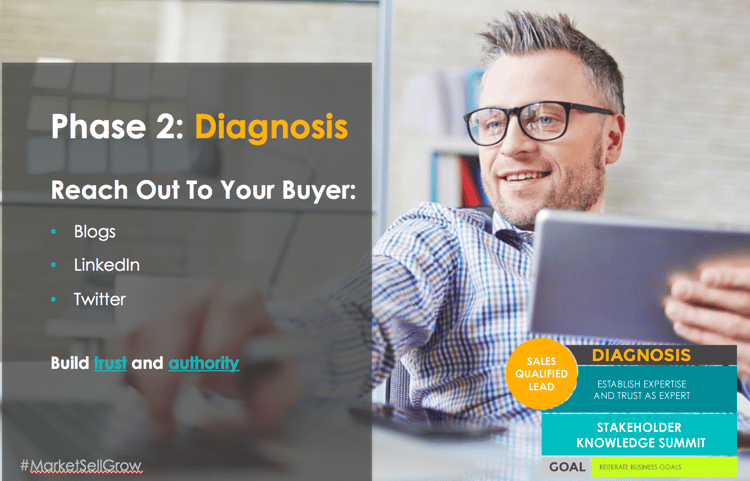 Outside of social media, there are also ways you can see the whole picture for every lead, and connect every tool your team uses – social and more.
Tools like this pull in social intelligence, but also answer questions such as –
What web pages of mine have they seen?
What content of mine have they downloaded?
Note any trends or niche areas
What is their lead score in comparison to my other leads?
During Phases 1 and 2, you want to leverage initial buyer interest to develop additional trust and uncover deep buyer goals through exploratory conversation. You will have to create exploratory call guides based on your personas for your sales team to leverage, and once you do, they can use the guides during their explore phase.
This phase is used to determine whether this person is a good fit or a bad fit customer.
During this phase you can work in unique product or service differentiators to help the buyer understand how your service/product can help solve their particular pain points and reach their goals.
Phase 3: Demonstration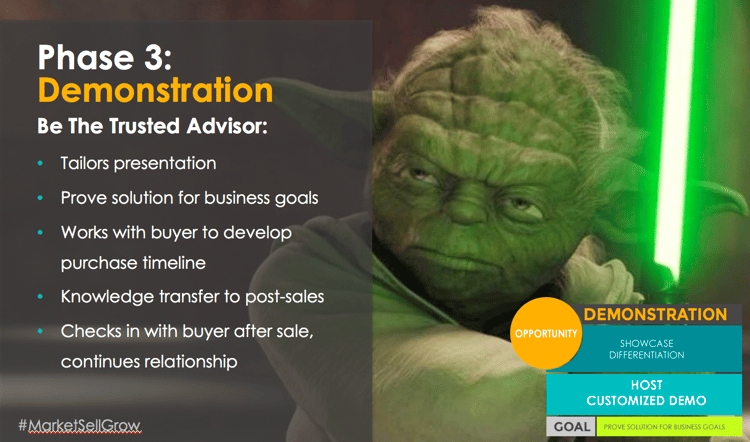 During this phase of the inbound sales methodology, you need to tailor your assets to the buyer's persona and leverage all of the information you have gathered from the exploratory call. This means tailoring presentations that align product value with the buyer's needs, and using terminology the buyer knows and can relate to, or conducting a product demo that illustrates 3 features important to the buyer, in order of importance to him or her.
Or you could even run an ROI analysis customized to the buyer's metrics and business. The key is to let the buyer know you have done the work on your end and make them feel that you are adding value to their journey. You have recognized that the buyer is a good fit for your company and you are helping the buyer understand why you are uniquely positioned to help them.
By this stage, inbound salespeople have developed a relationship with the buyer, so they can get honest answers from them. They can figure out the buyer's timeline and work backwards to create a plan to meet the deadline. And after the sale, the relationship does not end. The inbound salesperson transfers all of his or her knowledge to the post-sales team and checks in with the buyer every now and again to help ensure their continued success.
The Difference Between Legacy Sales and Inbound Sales
Take a moment to consider the differences between legacy salespeople and inbound salespeople in this chart: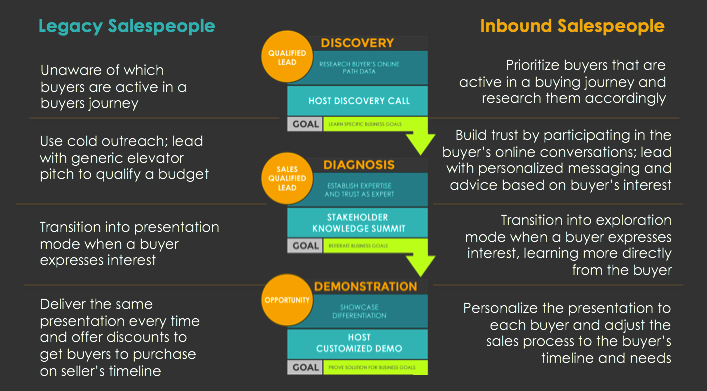 The sales process no longer about interrupting, pitching and closing. It's about leveraging the inbound sales methodology and listening, diagnosing and prescribing.
The inbound sale methodology is a path for sales teams to follow to figure out who their buyers are, what the buyer is searching for and is there to help them identify how they can add value to the buyer's journey.