Marketers used to see case studies as just an added bonus – the "whipped cream" on top of everything that their company does. If they had the time to get around to them, they were great to use to brag with. But, I am telling you that a well-executed case study, if used correctly, is far more important than that. It isn't a mere brag – it is PROOF of the industry-relevant, problem solving, superhero skills that your business is wielding.
Maybe your commercial contracting company has great content on your site about overhead
doors and dock installation. Maybe you have beautiful brochures about your business to hand out. But, ask yourself – do these marketing tools have the ability to depict a problem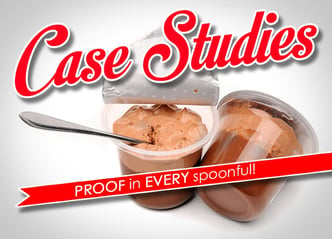 that your customers, and potential customers, have and illustrate how your company has been effective in solving that problem?
Think of the value in that. You know there are people with that same problem or issue that you have already successfully solved. You are able to go beyond the simple "about us" commercial contractor marketing content of many marketing tools and show them some proof with a heaping spoonful of case study pudding.
5 Reasons for Dishing Out Case Studies
SHOW OFF YOUR SMARTS – An effective case study will show your potential customers that you are smart – that you know how to find solutions AND results for issues in your industry.
INCREASE THEIR KNOWLEDGE OF WHAT YOU DO – Case studies increase the understanding of what your company does without having to hand out a brochure. They are the bark and the bite of your company. "Hey, here's exactly what I can do for you" – through a narrative of how you actually helped someone like them already.
STORY THEY CAN RELATE TO – Like I said, case studies are a narrative. The important part of that is you are able to tell a story they can identify with by targeting your case studies to relevant audiences. Maybe they have similar issues and problems like the company that you already helped.
BASED ON FACTS – Case studies are credible because they relate to a factual situation instead of subjective claims that are often found in other forms of marketing. Added bonus – those facts come not just from you, but from a fellow customer.
CAN DEMONSTRATE ROI –With some case studies you can quantify the benefits of the solution that you found. If that is the case, you can document that return on investment and showcase the benefits of the solution while urging the potential customer to take advantage of your proven solutions as well.
Taking advantage of case studies and demonstrating how your business creates actual results for its customers can cause leads to actually seek your company out. Want to learn even more about the benefits of case studies, check out this article from HubSpot.
While the benefits are numerous, I totally understand that this can seem like a huge undertaking, and that creating a marketing plan for a commercial contractor company around your case studies can seem cumbersome. The fact is, a poorly written or executed case study can actually reflect negatively on your business. That is where an inbound marketing agency can lend a huge hand. A well-executed case study from an inbound marketing agency can help your company reap the tasty benefits from your already proven success.