I'm not telling you something you don't already know here, but the overhead door industry is unique. You are working with so many different types of customers—homeowners, small business owners, big business owners and even mid-level executives who handle buying and repair decisions. Because you work with such a varied client base, attracting prospects may seem to be a complicated matter.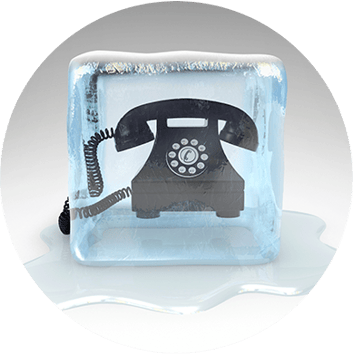 As a whole, the overhead door industry is primarily using old school marketing techniques to attract prospects. This includes YellowPage advertising, radio, cold calling and television ads—among other who-knows-if-they-are-working, causing-you-to-drink marketing options.
These concepts may have worked historically, but today, if you do not have a trustworthy presence on the Internet, you are missing out on the most profitable customers in your industry – in other words, you are history.
Since the entire buying journey has change with people researching and purchasing so heavily online - the way you market your overhead door company and its services to your clients should evolve as well. Need more convincing? Here are ten reasons why your business needs to take advantage of inbound marketing techniques.
1. Begin Converting as Soon as You Attract the Potential Clients to Your Website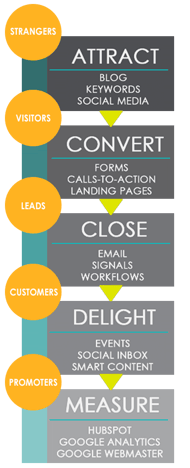 Inbound marketing is built around a four-part methodology
Attract
Convert
Close
Delight
I know I said 4, but you have to Measure too, to make sure those 4 are working.
Put simply, you begin converting as soon as you attract the potential clients to your website or online properties. When prospects first start researching, educate them. Create content that help these individuals learn more about the buying process. Teach them with a blog post, perhaps something like "Can you repair your overhead door, or is it time for a new one?" Help these buyers become more educated consumers. You are providing tools to enable customers to see purchasing a new overhead door as a smart decision. Then, the trust you build will earn your organization the sale.
2. Attract Active Buyers Searching for the Products You Have
Attract those active buyers out there who are already searching the Internet for information for their next industrial overhead door or loading dock. This educational process is where up to 80% of the sale is being made. This is where you want to be. You need to become part of the process.
This goes beyond simply educating the buyers through great content; it is important to track who these potential buyers are too. One way to do this is by requiring interested parties to provide an email address in exchange for an eBook, whitepaper or other "free" information source. Then, when these prospects are ready to buy, you can serve up information to your sales and service team.
3. Shorten the Sales Cycle
Providing your salespeople, the follow-up tools they need to educate your prospects can make a huge impact on your success with the inbound marketing process. Using marketing automation tools can shorten the time involved between converting and closing. According to the Content Marketing Institute, 70% of B2B and B2C brands have increased the amount of content they create over the past 12 months -- and are planning to spend even more. If you are not doing the same, you could easily fall behind the competition.
4. Differentiate Your Products from Your Competitors
Increase your firm's profit margin by clearly differentiating your overhead door products against your competitor's products. Does your door last longer or is it more durable? Is your product better when your kids play basketball or perhaps safer around pets? Smart buyers value these options and they are conducting research to try to find them. Consumers are willing to pay a premium in exchange for peace of mind. Attract these valuable prospects by teaching them about the best standards for overhead door reliability, safety, convenience and value. Do you have the best answers available? Are you the go-to source for information in your industry? Producing content that helps differentiate your product from your competitors is a key inbound marketing strategy.
5. Create Credibility for Being a Thought Leader in the Industry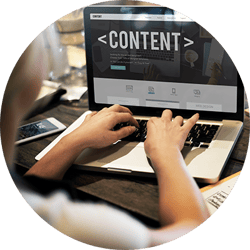 That trust will translate into higher service division sales. Overhead Door and Loading Dock companies with high performing service divisions have higher profitability, overcome downturns in the economy and have increased customer loyalty. How do you do this? Create content, of course, that is the key to inbound marketing. However, more than that, it is important to engage with customers and peers so you can develop relationships that prove your leadership in all aspects of your business.
6. Focus on Service
Providing superior service is a key part of your inbound marketing program. After all, according to the four-step methodology, step four is "delight". You will increase your firm's ability to get a service contract after installation when you provide excellent customer service. Pair automated marketing with talented salespeople to increase the chances of getting a service contract and the next garage door sale too.
According to the 2010 Customer Experience Report by RightNow, the biggest reason people stop doing business with a company is due to a poor customer service experience. In fact, 82% of people have left a company because of a bad customer service experience. On the other hand, creating good customer experiences and happy customers deliver a big and predictable return on investment. Happy customers, on average, tell nine people about their experiences. While bad customer service can crush you, delivering excellent customer service builds loyal customer relationships, increases retention and referrals, and helps you quickly grow your business.
7. Maintain Customer Relationships
Maintain customer relationships with your overhead door customers even when valuable salespeople, estimators and service technicians' leave and go work for a competitor. The company has the information on the customers and all the communication. When a valuable employee leaves, make sure you maintain contact with the customer relationship. Build the relationship between the COMPANY and the customer—not the salesperson and the customer. That way, you build relationships that last. Great content, created from the organization's perspective helps you build this trust—no matter who is acting as the salesperson on the account.
8. Nurture Long-Term Customer Relationships
Although it may seem that inbound marketing in the overhead door vertical is focused on bringing in new customers, these same techniques can help you nurture existing clients too. Take advantage of automated processes to deal with maintenance needs. Send emails, offer maintenance programs, send reminders and stay in touch with relevant content to help keep these current customers coming back time and time again. When you provide high-quality content, developed for the needs of the returning customer, you help retain that sense of trust and connection you built with great service.
9. Get your Sales Team and Marketing Team on the Same Team – Team Revenue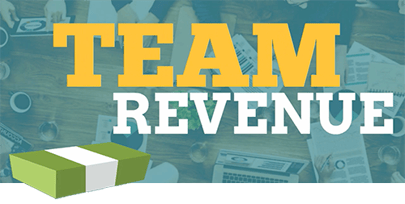 The Inbound Marketing methodology, plus the sales automation tools available today have created an alignment of the sales and marketing teams like we have never seen before. Sales and Marketing alignment is proven to increase closed sales ratios significantly.
The most important and valuable piece of knowledge any business can have is the deep understanding of who their customer is. Traditionally, 79% of marketing leads never convert into sales. Lack of lead nurturing is the common cause of this poor performance. Inbound marketing and this team alignment can drastically cut this number. Leads are stronger than ever before. The leads coming in with inbound marketing are potentially ready to take action, and they already have trust for your organization—this is a serious win for those in a competitive industry like yours.
10. Attract Top Talent
You know that in overhead door and garage door installation and repair, one of your best assets is your staff. Inbound marketing will help you with this challenging aspect of your business too. Continuously attract top service and installation technicians with website recruitment and training tips. Become a training resource to teach technicians how to earn more as an overhead door technician. The companies that take advantage of inbound marketing WILL get the best prospects—which improves every aspect of your business.
So, in order to not only stay with the times and up-to-date with how your potential customers are purchasing, but to also save you a shit ton of headaches… get ahead of your overhead door and loading dock competitors by framing the conversation from the beginning of the buyer's journey. Inbound marketing is the answer.