Industrial construction business-to-business company marketing is a complex, two-pronged necessity for businesses today to increase lead generation.
We're seeing many specialized construction and architectural B2B companies searching for a better way to market their business to two major arms of project planners: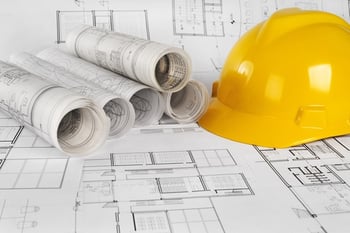 Architects and engineers in the planning stages of a project who need to put specs into their blueprint


General contractors and project managers hired when a project is underway who need to choose contractors and suppliers according to the plans and specs in the blueprint
Increasing lead generation quality is most likely one of your top priorities this year while planning for the marketing for your construction company. When presented with a list of six objectives, 41% of B2B respondents chose lead generation as their top goal in 2013; this year, according to Demand Gen Report's latest annual Demand Generation Benchmark Report, the most important priority for B2B marketers is a focus on lead quality over lead quantity.
If you're setting your marketing and sales strategy for a specialized commercial construction company, I'm here to tell you about a better approach to marketing your business to both sides of a potential project that will:
reach your target audience at the right time.

increase the quality of leads you're bringing in.

save you valuable time and money.

increase your marketing budget ROI.
Inbound strategy is specialized, built to the specs of your specialized business.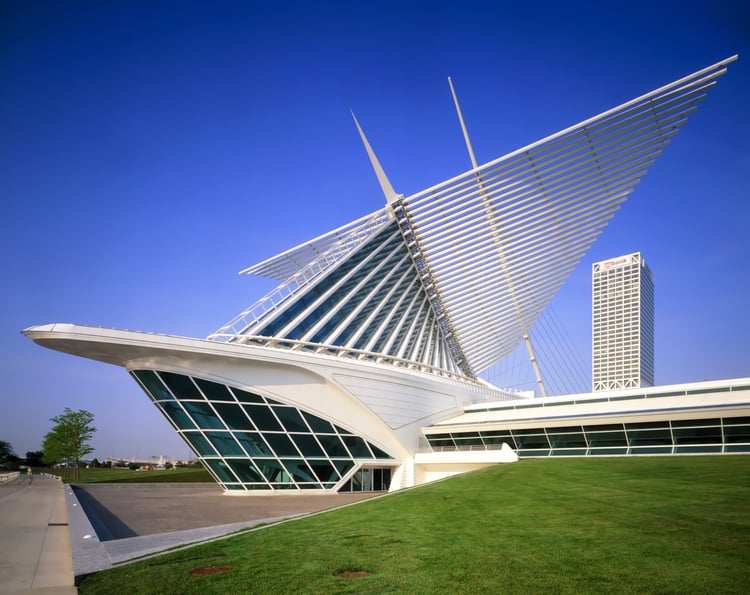 Milwaukee Art Museum; Photo by Jeff Millies
Ideally, all architects and engineers working on specifications for major commercial or residential plans would already know about your company and the benefits your product brings - aesthetically, fundamentally, and longevity-wise - to their project, and they'd build the specs for your product right into their blueprints. After all, the more engineers who know and plan for your product, the better - as you're likely to be chosen as the supplier for the final build, as well as included in future projects of theirs as a result.

However, barring that possibility, B2B inbound marketing is the next best thing. This education-based marketing strategy sets your business up to be found by those same architects and engineers who are looking for an industrial construction company like yours.
Secondarily, but just as important for lead generation and your bottom line, are the project planners, general contractors, and buyers for the construction stage of the commercial project. They receive the blueprints for the new project they're assigned to, and they have the task of picking the contractors and supplies that fit the specs. If they've worked with you before, you're in luck - they're familiar with your product and its benefits. But marketing to this group of constructions professionals is your job as a marketing professional - and inbound marketing is a perfectly-built fit to reach this audience. We've created this infographic with more on inbound marketing for B2B construction companies: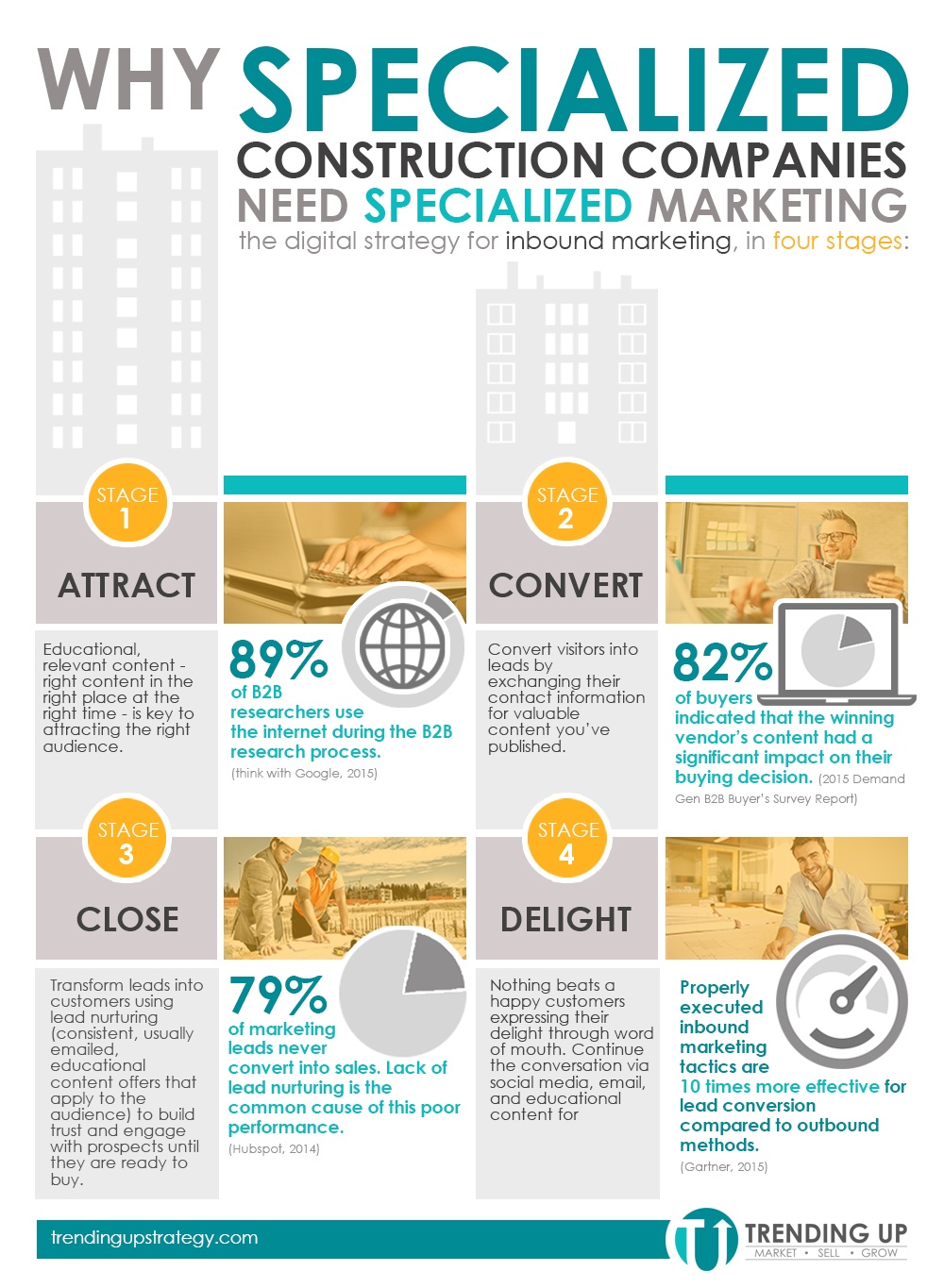 Here's the digital strategy for inbound marketing, in four stages:
1. Attract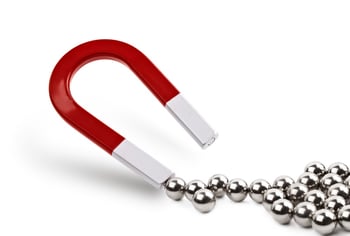 Bring the right potential customers to your website as they're looking for answers to meet their needs or goals. Educational, relevant content - right content in the right place at the right time - is key to attracting the right audience.
89% of B2B researchers use the internet during the B2B research process.
For our architects and engineers, let's say they're looking for a specialized aluminum architectural products supplier, or a custom overhead door, or high-performance windows, or customized interior woodworking; where's the first place they're going to look? If you said online, you'd be right: 89% of B2B researchers use the internet during the B2B research process (think with Google, 2015).
2. Convert:
Convert visitors into leads by exchanging their contact information for valuable content you've published. It's the green light to start communicating.
82% of respondents indicated that the winning vendor's content had a significant impact on their buying decision.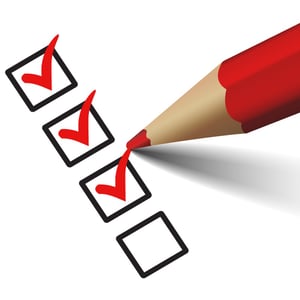 Let's take a look at our general contractors and buyers in this stage: they've searched for the product that can meet their needs, and now it's time to convert them so that you know who they are. By providing excellent, targeted, educational premium content (like a white paper, case study, or a useful checklist) to these planners, they are more likely to give you their contact information and even project details in exchange. How do I know? The data support it: the 2016 B2B Buyers Survey from DemandGen said the single most influential aspect of any vendor's website is "relevant content that speaks directly to [their] company."
3. Close
Transform leads into customers using lead nurturing (consistent, usually emailed, educational content offers that apply to the audience) to build trust and engage with prospects until they are ready to buy.
79% of marketing leads never convert into sales. Lack of lead nurturing is the common cause of this poor performance. (Hubspot)
While planning, our engineers and architects may not be making the recommendation immediately. The same goes for our general contractors; the research process now takes precedence (up from 58% to 80% in 2015) and the overall buying process is taking longer, according to 53% of surveyed respondents. In the meantime, lead nurturing keeps your company top of mind. Keeping your prospective buyers engaged throughout their selection process is key.
4. Delight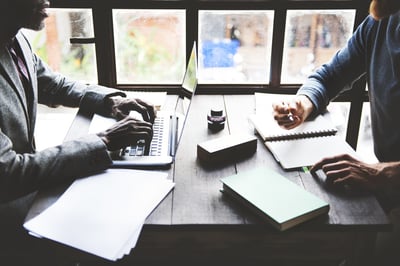 Nothing beats a happy customers expressing their delight through word of mouth. Continue the conversation via social media, email, and educational content for customers.
This, too, adds to your future lead generation quality, as well as customer retention. Peer reviews accounted for 49% of the first three resources that informed B2B buyers of a solution (the other two were vendor websites and web search) (Demand Gen Report, 2016). That's a huge change from 2015, when that number was 20%.
Your future general contractor is looking to industry peers who have had success on their projects for a recommendation on specialty industrial construction vendors; keeping former project managers delighted continues to be helpful to you in the future.
Properly executed inbound marketing tactics are 10 times more effective for lead conversion compared to outbound methods.
The buying cycle for construction projects may take a long time, but inbound marketing is up for the task. Properly executed inbound tactics are 10 times more effective for lead conversion compared to outbound methods (Gartner, 2015). The best part? It's not only more effective, but inbound marketing also costs 61% less per lead than traditional, outbound marketing. That's right— 61% less (Hubspot). From the planning stage through the buying stage, your website findability, relevant content, and educational lead nurturing sets your specialized construction company up for success when you're using inbound methods.